With the new Google Chrome OS about to be released on netbooks everywhere, we thought it would be a good idea to get a copy to setup a testing platform. It's not as easy as we thought it would be though.
When we found out about the new Google Chrome OS being available for download as a VirtualBox image we downloaded it immediately. We have been hoping to setup a Chrome OS as a testing platform ever since we heard about its existence.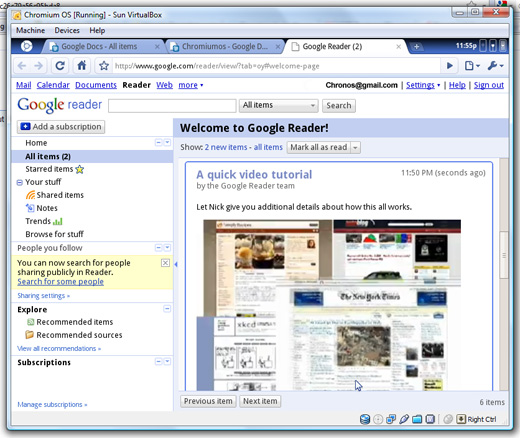 The Google Chromium OS is light and boots in almost no time at all. An extended Chrome browser serves as the graphical user interface (GUI). Getting to a terminal prompt was hit or miss in our tests. Sometimes pressing ctrl+alt+t would bring up the terminal, but most of the time it appeared to do nothing. All the keyboard shortcuts for inside of the Chrome browser worked fine though.
The username and password to login to the system are the same as your Google account. The browser loads almost instantly after logging in. There are shortcuts to all of Google's services like Gmail, Google Calendar Google Docs and Google Reader. Page loading seemed very slow, but the Adobe Flash plugin works perfectly and speed testing from inside of the Chrome OS / Browser revealed the slow page loading was not due to a connection issue. Again running the image in VirtualBox might be causing the slow loading or it might be due to the image being built from a development release of the OS and browse source codes.
After testing these images we thought we would try to build a fresh image from scratch to see if we could see any new features and hopefully find a way to install drivers and change the screen resolution. Also it would be interesting to try to install the Chrome OS natively on a machine once drivers can be installed.
After several days of trouble with building images that wouldn't boot in VirtualBox, we moved back to Ubuntu 9.04 since this was recommended in one of the many tutorials we read due to trouble building on Ubuntu 9.10 for some unknown reason.