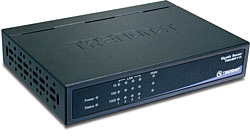 We've seen a number of posts across the web requesting a review of the TRENDnet TWG-BRF114 (Version 1.0R) 4-Port Gigabit Firewall Router.
We happened to be upgrading our network and were in need of a high throughput router to replace our aging Linksys BEFSR41 v3. The old Linksys seems to max out at around 16mb down. It served us well for the 5-6 years we've been running it.
The new TRENDnet TWG-BRF114 arrived from Amazon with next day shipping via FedEx all for about $110. The unit arrived in perfect condition and on the next business day.
We were surprised to find the router is cased in steel, heavy and very solid feeling build quality. Nice first impression. The back panel port ethernet and power ports seem very solid as well.
After plugging in all the cables, we checked out the options in the web configuration panel at 192.168.0.1, everything seems to be well organized.
There are plenty of options for anything I need and the firewall seems to be totally solid. All the port scanning I did didn't turn up so much as a ping. Security seems solid.
The layout in the 'DoS (Denial of Service) attacks' log viewing page is broken in Firefox, but still easily readable and useful. The only other cross browser issue we found is that the firmware of this router can only be flashed (http://192.168.0.1/upg_fw.htm) using Internet Explorer.
We flashed our firmware from Version 1.0 Release 02 to Version 1.0 Release 04 using IE 8 and the process went smoothly. All the other configuration pages seem to render and function perfectly in Firefox 3.6, our main browser.

The most important thing for us is that the TRENDnet TWG-BRF114 supports 25mb down and 4mb up throughput. It will certainly allow much more throughput than that, but that is what our ISP is providing. Speed testing confirms this as well.
This router upgrade was needed since the Linksys was maxing out at 16-18mb down in our tests and Comcast is now offering up to 50mb, our network needed to be upgraded to support those speeds. We had been wanting to go to a gigabit LAN for quite a while anyway and now seemed a perfect time. The modem that allows these speeds is the Motorola Surfboard SB6120 SURFboard® eXtreme.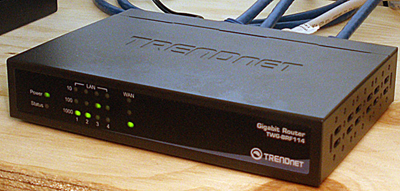 Another issue worth mention is that the WAN port speed (http://192.168.0.1/wan_cfg.htm) can only be manually set to 'Auto', '10mb half duplex' and '100mb half duplex'. This scared us at first but we left it set to 'Auto' since the lights on the front panel of the router show the WAN port running at 1000mb when the port speed is left on 'Auto'. You can see this in the picture above, which shows the router running our local network. The images above also shows how a 100mb device will be shown on the front panel of the router. Also we have had trouble when changing this setting away from 'Auto' on other routers, we recommend leaving this set to 'Auto'.
We use our network heavily for ftp transfers as well as regular web surfing, email, file downloads, VoIP, video streaming and audio streaming.
It is critical that the network be able to support all this and the TRENDnet TWG-BRF114 seems to be doing a great job so far.
For those of you who use peer-to-peer, we cannot comment on the router's ability in that area, we don't use peer-to-peer file sharing networks due to the recent spate of lawsuits directed at people who use those services.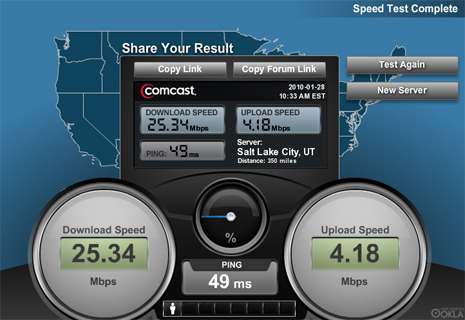 The above speed test was completed behind the router with the following security options (http://192.168.0.1/security.htm):
DoS Firewall: Enabled
Set port 113 stealthed: Enabled
Respond to ICMP (ping) on WAN interface: Disabled
Allow VPN Passthrough (IPsec, PPTP, L2TP): Enabled
Drop fragmented IP packets: Enabled
Block TCP Flood: Enabled
Block UDP Flood: Enabled
Block non-standard packets: Enabled
Our monthly bill has not increased and we think our bandwidth is probably equivalent to the Comcast 'Blast!®' service with downloads up to 20Mbps, uploads up to 4Mbps. Amazing.
Please be aware of possible issues with this router that our testing has not revealed. A more specific break down of the equipment and services used in the testing is as follows:
Comcast 'Performance' Internet (Quoted Speeds: 15Mbps Down, 3Mbps Up)
TRENDnet TWG-BRF114 (Version 1.0R) 4-Port Gigabit Firewall Router
Realtek® 8111C PCIe Gb LAN controller (onboard ASUS P5Q3)
Also we tested using a PC with a: Marvell 88E8001 Gigabit Lan Controller (onboard ASUS P4P800-E Deluxe)
You can read more about some of the issues we haven't had trouble with on Amazon Customer Reviews. We also wanted to thank F. Strecker for posting a thorough review of the TRENDnet TWG-BRF114 on Amazon's Customer Reviews and also for the quick response to our question.
Our current hypothesis concerning the issues F. Strecker and others have experienced is that they could be due to some kind of incompatibility with other equipment in the local network or the ISP. Since F. Strecker reports testing 2 different TRENDnet TWG-BRF114 units, the problems are very unlikely to simply be due to a defective unit. If F. Strecker or anyone else with experiences with the TRENDnet TWG-BRF114 is interested in posting your findings here, please do.
Please also post all the equipment you are running on your local network between your ISP and PC, most importantly the cable modem you used, the ethernet card in your PC and your ISP (Internet Service Provider).
Maybe we can find out which configurations cause problems and which don't, this may even allow the various manufacturers involved, including TRENDnet, to correct some of these issues.
Our research has shown it can be very difficult to find good information on this particular router, so please post any information you might have about where to download firmware for this as well as any other information you feel would be useful for some one considering this router.