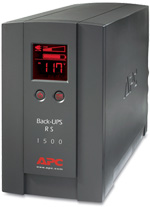 The APC BACK-UPS RS 1500 LCD is indeed great protection. This is a very nice looking unit with a large and bright LCD screen. Both buttons on the front light up as well. It can handle heavy loads up to 865 watts (1500 VA) and it has Automatic Voltage Regulation. These features make it great for applications where battery backup and surge protection are critical to maintaining stability and up-times.
This unit is quite large and heavy and it is from one of the most trusted, if not, the most trusted, name in the UPS (Uninterruptible Power Source) industry.
A great example of why people trust APC is the customer service they provide. Several years ago we ordered a battery backup from APC and received a defective unit, APC sent a new UPS to us before we had even returned the defective one. We were very impressed and we recommend paying the higher prices for APC products due to the high quality of the products and customer support.